Adele
Weekends With Adele
'Weekends With Adele', at The Colosseum, Las Vegas, are a set of intimate shows celebrating Adele's greatest hits from over the years.
// 2022
// Las Vegas Residency
// The Colosseum, Las Vegas
STUFISH designed a kinetic stage that expands and contracts, creating an ever-changing environment. This transformative stage reveals layers as it expands, revealing the band, large scale props, lighting and a vertical orchestra.
The band is formed from nine musicians who are positioned on moving platforms that move between the projected layers to create multiple formations. As the show continues, a rear video screen ascends to reveal a three-story vertical structure, which hosts the 24-string orchestra.
The stage movement is created by large tracking panels that traverse the stage to create a wide variety of apertures and backgrounds, that are also projection surfaces. By playing with scale, light and colour, the stage transforms from an intimate moment to a grand and immersive experience that connects the audience with the stage.
To create an immersive and intimate experience in the theatre, the projection expands out into the auditorium onto a false proscenium to reach the balconies and become an extension of the stage. This creates a panoramic canvas for largescale video imagery and live camera footage to be projected across The Colosseum.
The show is a holistic fusion of the physical scenery & props, lighting effects, video projection and special FX; including fire, water and three different custom confetti moments. Combined with the powerful performance from Adele, the show keeps evolving from the first few chords of music, to the very final moment where the scenery closes.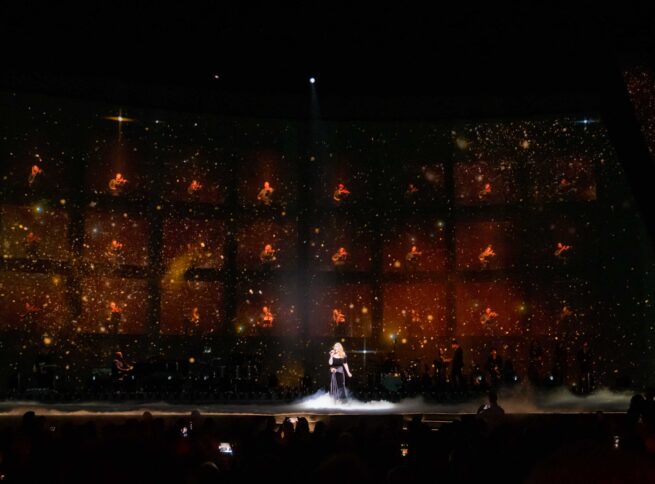 Show Director Matt Askem Creative Director Kim Gavin Executive Producer Jonathan Dickins & Rose Moon Production Director Paul English Tour Manager Maya Gas Tour Accountant John Dalton Production Design STUFISH Lighting Design Cory Fitzgerald Lighting Operators Sam Paine & Davey Martinez Magic Consultant Rob Lake Show Caller Maddie Cupples & Carolyn Wyld Stage Manager Emily Burton