Helene Fischer Live
Helene Fischer
STUFISH has worked with show designers 45 Degrees to develop the set design element for Helene Fischer's extraordinary and elaborate new show. Together we crafted a breath-taking, ambitious, and technically challenging show.
// 2017
// Tour
// Europe
The stage design is based on the concept of time with a giant "clock" as the centre point. The clock is features a 16m long clock-hand (5 tonnes) that sits as a catwalk diagonally out into the arena. During the show, the clock-hand rises to 3.5m high and then starts to revolve.
Helene travels over the heads of the audience and arrives on a floating stage at the other end of the arena. This floating stage (4m diameter & weighing 2 tonnes) descends from above: The floating stage is surrounded by an automated, cylindrical curtain, which can wrap the stage to fly and hover above it.
At 9m high and 3.6m wide is the Performer Acrobatic wall. This rolling metal framework allows nine highly skilled acrobats to perform amazing and death-defying chorography. With the height of a three-story building the wall is fitted with performer harnesses. The performer wall is an eight tonnes structure that tracks up/down stage.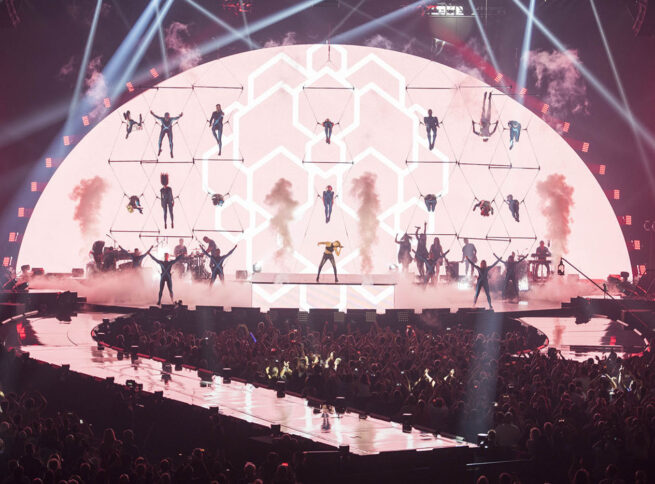 The design also features a 27m wide and 10m high semi-circular rear video screen that is reflected into the stage shape. The video screen can split in the centre to reveal large-scale props from backstage.
Overhead is a major catwalk system for deploying acrobats and amazing aerial acts, plus kinetic lighting trusses. Together with an amazing cast of dancers and aerialists, the show is a masterpiece surrounding one of the greatest performers in the world.
Credits
Show Concept 45 Degrees/Cirque Du Soleil Events Creative Director Mukhtar Omar Sharif Mukhtar Creative Producer Patricia Tremblay Producer Semmel Concerts Production Manager Thomas Schmitt Musical Director Christophe Papendieck Lighting Design Nicolas Brion Sound Design Soundhouse Video Design & Animation 4U2C Staging Supplier Brilliant Stages