MDNA
Madonna
From intimate scenes, to full cast spectacle.
// 2012
// Tour
// Worldwide
The MDNA show had to be able to tell the story from darkness to light. The main feature of the MDNA tour was the LED undulating floor. A state-of-the-art LED video matrix of 36 lifts to create a continuous spectacle and journey. Set in the centre of the stage, the lifts were 1x1m that could rise up and down by 4m out of the stage and were clad in LED video. This formed the centre of the design. On each side of the lifts were the band on automated tracking risers to move upstage and downstage.
The catwalk created a triangular shape that surrounded a VIP area in the centre. Bridging over the audience at 8ft high and dropping down to 5ft for the end of the catwalk. Additional pop up lifts and prop lifts were positioned through the stage to bring up people and props in various places. The backdrop of the stage was made from eight tracking and rotating video screens. This allowed for a dynamic backdrop that could allow large props, people, or lighting to permeate through from upstage. Overhead there were two heavy duty tracks capable of moving people or scenery over the stage.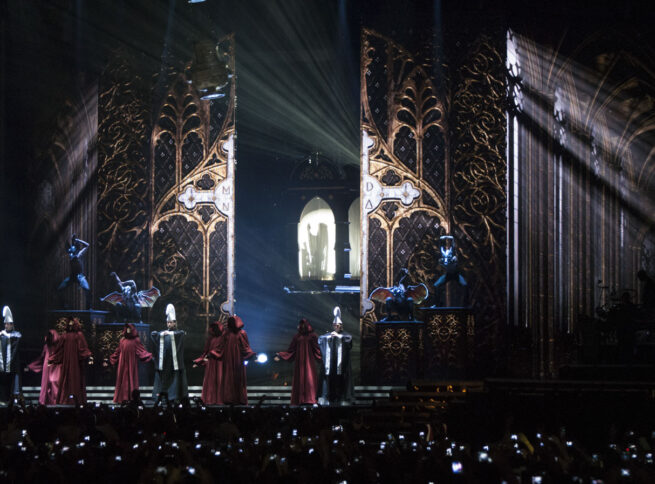 The show toured arenas and stadia and so had to be developed to also exist in a new custom-built roof structure. With an extra wide span created with StageCo, the outdoor stage allowed for the audience to have a wider sightline into the spectacular performance within.
As set designers and art directors, we were responsible for all the scenic and prop designs. As well as the stage and automation scenery, there was additional pieces used in the different scenes, from a flying church confessional, to a tracking motel room. Other large props included a large chandelier, kinetic mirrors pushed by dancers, a rustic multi-layered riser for the Kalikan Trio.
Credits
Show Director Michel Laprise Co-Director Richmond and Anthony Talauega Assistant Show Director Tiffany Olsen Creative Producer Jamie King Promoter Arthur Fogel – Live nation Management/Producer Guy Oseary, Sara Zambreno Production Manager Jake Berry Musical Director Kevin Antunes Technical Stage Manager Mike Morobitto Lighting Design Al Gurdon Costume Design Arianne Phillips / Riccardo Tisci / Jean-Paul Gaultier
Choreographer Alison Faulk, Jason Young Video Design & Animation Moment Factory, Veneno Inc, Tom Munro. Danny Tull, Jonas Akerlund, Nathan Rissman, Johan Soderberg Staging Supplier TAIT, StageCo