British Fashion Council
British Fashion Awards 2018
Celebrating 12 months of fashion in style.
// 2018
// Awards Ceremony
// Royal Albert Hall, London
We developed a concept for a 3D sculpture of a brush stroke that formed a panoramic video screen that wrapped the main stage and ramped down to create the catwalk. The catwalk itself swept into the audience and split to create an energetic form in between the banquette seating to allow presenters and winners to enter from either side of the auditorium. This form also allowed more members of the audience to feel closer to the action.
The brush stroke screen floated above the stage and was projected with bright and colourful images, text, and textures throughout the show. As the video surface dissolved into the catwalk, we used a gold floor to add a sense of luxury. The sides of the stage were black velour which was echoed in the banquette seating.
In collaboration with the main sponsor Swarovski, we designed a 10M wide crystal backdrop for the main stage that curved and spanned the width of the stage. Behind this crystal screen sat the London Symphony Orchestra who provided part of the soundtrack to the evening.
In the centre of the space hung a sculpture of six mirror balls that cast thousands of small golden dots of light all over the room to bathe the audience in a spectacular lighting look.
Finally, in addition to the sculptural panoramic projection screen, there were three large floating gauzes showing projected elements of video content and IMAG that allowed guests in the upper levels to connect with the performance happening below.  All of these elements worked together to create an immersive and elegant event for the awards.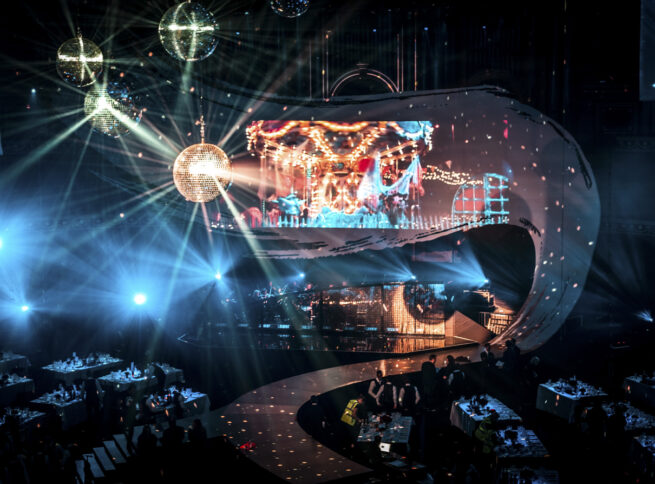 Credits
Producer Done and Dusted  Event Design INCA  Stage Design STUFISH  Lighting Design Gurdip Mahal  Video Design Hello Charlie  Fabrication Illusion  Screens and Rigging Blackout Sponsor Swarovski