Joshua Tree
U2
STUFISH continues its long relationship with U2 and Creative Director Willie Williams. This show is minimalism on a maximum scale.
// 2017
// Touring Show
// UK, USA, EU, New Zealand, Australia and Canada
The Joshua Tree Tour 2017 is a celebration of the original album and tour of the same name undertaken by U2 in 1987. It reflects the group's fascination for the American culture, its landscape, its people, its literature, and its myths.
30 years on, this fascination remains particularly contemporary and revisiting the album a timely confirmation of the group's love affair with the continent.
Huge custom-built structural beams have been designed to cantilever the PA and lighting high above the video screen to avoid it hanging in front of the video screen. This pushes the limits of the engineering possibilities to redefine how these shows are done. This pure statement together with minimal clutter on the stage delivers the largest and most spectacular landscapes and portraits throughout the show.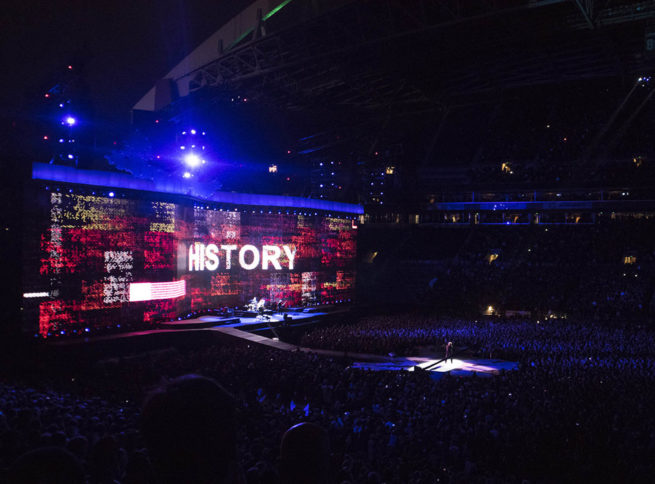 At the back of the stage is the largest, unobscured, most high-resolution LED video screen (nearly 8k) ever used in a touring show. The 200ft wide and 45ft high custom-built screen is painted to look like a golden piece of cardboard with a silver Joshua Tree logo painted on top of it. The Tree extends beyond the screen frame and becomes the centre piece of the show.
Andy Greene,
Rolling Stone May 15th 2017
"...unlike anything that's ever been seen at a rock concert"


Credits
Show Director Willie Williams Producer Live Nation Production Manager Jake Berry Creative Consultants Morleigh Steinberg, Gavin Friday, Es Devlin Lighting Design Willie Williams Costume Design Sharon Blankson Sound Design Joe O'Herlihy Video Design & Animation Treatment Studio / Anton Corbijn Staging Supplier TAIT, StageCo Stage Design STUFISH