Dalian Wanda Group
Han Show Theatre
Designing 'The Red Lantern', a striking new theatre for Wuhan celebrating a rich cultural history and a home for Dragone's visually-stunning show
// 2014
// Building
// Wuhan, China
The Han Show Theatre is a bold statement of the region's cultural riches. Designed by STUFISH to house a landmark production by legendary producers Dragone, the building resembles a huge red lantern from a distance. Inside, the performance space is on a grand scale, featuring movable seats, an incredible pool and the world's largest movable LED screens.
The design for the theatre is based on the traditional Chinese paper lantern, though on a vast scale. This creates a landmark building, drawing in visitors and sightseers. As they approach ,the building also works on a smaller scale: each of the 18,000 discs around its surface resembles a Bi disc, an ancient symbol from the Han dynasty.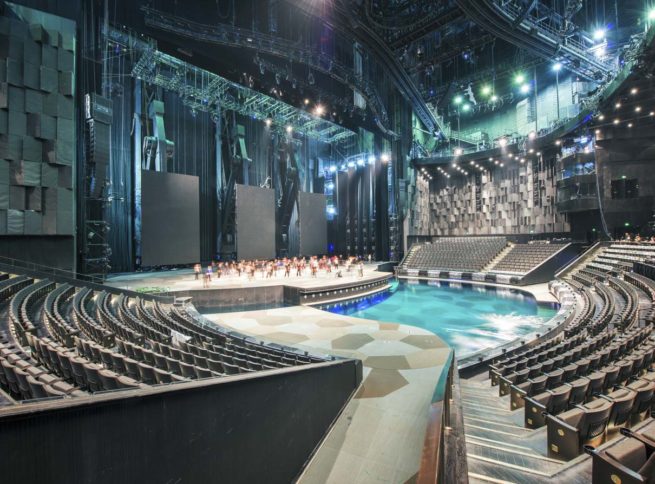 These dimpled, concave discs are illuminated by their own arrays of red LEDs; by zoning the light using DMX controls, the discs can host a video image across the surface of the building. Inside the theatre, features include movable auditorium seats, a 10-million litre performance pool, and three movable LED screens, designed to be the world's largest.
STUFISH
"The unique vision for the auditorium and show required vast and complex design integration. The entire building programme had to be configured specifically for and around the auditorium whilst also fitting within a constrained urban site."

Technical details
// 56m-tall lantern structure
// 8-metre deep performance pool
// 2000 moveable lower and upper seats
// Wet and dry lifts,
// Three 225m2 LED screens
// Screens mounted on robotic arms with six axes of motion
// Winner of the Live Design Excellence Award 2015 in the 'Venue (Theatre)' category.
The Hans Show Theatre won the Live Design Excellence Award 2015 in the 'Venue (Theatre)' category.
Artist/Client Wanda Group Theatre Consultant Theatre Projects Structural Engineer Tongji Architectural Design (Group) Co., Ltd. Lighting  and  Structure Design STUFISH/ Guangzhou pearl river foreign investment architectural designing institute co. ltd. Façade, Interior and Landscape Design STUFISH Local Architect / Engineer Guangzhou pearl river foreign investment architectural designing institute co. ltd. Acoustic Consultant Jaffe Holden Acoustics