Dalian Wanda Group
Wuhan Movie Park
Wuhan Movie Theme Park is a new cultural development housing six stunning multi-dimensional theatres and rides in a spectacular structure designed for Dalian Wanda Group
// 2014
// Building
// Wuhan, China
The Wuhan Movie Theme Park is the world's first indoor movie park: an 80,000m2 building, anchoring one end of a major development by Beijing-based development group Dalian Wanda. Opened on 20 December 2014, it was designed by STUFISH to provide multi-dimension movie rides, ranging from simple 3D to actor and scenery-enhanced 6D experiences, with retail and restaurant spaces.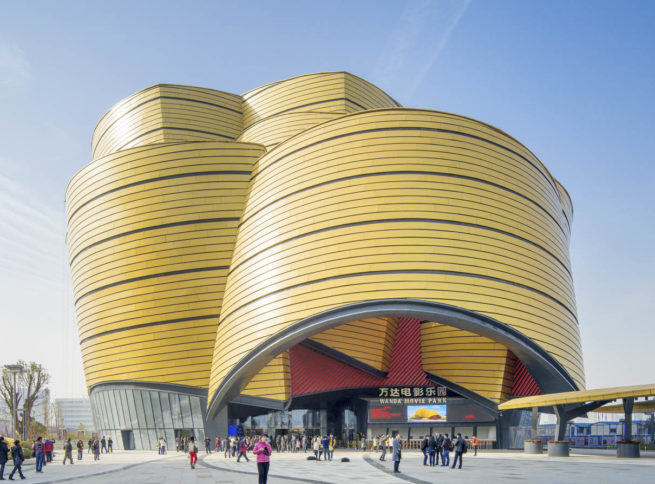 The form of the building references the Wuhan Bells, a traditional symbol of the local Chu-Han culture. This bell shape is replicated and grouped into two distinct clusters, each large enough to house large-scale theme park rides arranged on ground and upper levels. There are 24 bells in total, each clad in geometric aluminium sections, coated with self-cleaning fluorocarbon paint.
Glazed areas at street level provide double-height shop fronts looking out on Shahu lake. From the public plaza to the south, the main entrance bell channels guests through the 'Street of Bells', sweeping them into the Grand Atrium, where balcony walls are lined with LED screens and choreographed theatrical lighting.
Wang Jianlin,
Wanda Group Chair
"The Han Show and Wanda Movie Park are first of a kind, unique projects which will undoubtedly become new symbols of Chinese culture, as well as leading new global entertainment brands."
Credits
Theme Park Consultant Forrec Landscape, Façade and Structure Design STUFISH Structural Engineer Tongji Architectural Design (Group) Co., Ltd. Interior Design STUFISH/Forrec Lighting Design STUFISH/ Tongji Architectural Design (Group) Co., Ltd. Local Architect / Engineer Tongji Architectural Design (Group) Co., Ltd.