Presented by the Victoria and Albert Museum
The Pink Floyd Exhibition: Their Mortal Remains
An artistic retrospective of the band's creative output
Pink Floyd: Their Mortal Remains tells the story of the band through art and artefacts created over a career spanning six decades
// 2017
// Exhibition
// London
Their Mortal Remains is an exhibition of art, artefacts, sound and equipment from the career of Pink Floyd, telling the creative story of the band through their most iconic objects. STUFISH have collaborated with the band since the late 1970s, and our understanding of their work helped shape this into a celebrated production.
Working closely with Pink Floyd's creative director Aubrey 'Po' Powell, and the Victoria & Albert's Senior Curator Victoria Broackes, we designed the exhibition to draw extensively on the band's rich audio and visual history. The result is an environment that takes the visitor into the vibrant world of Pink Floyd.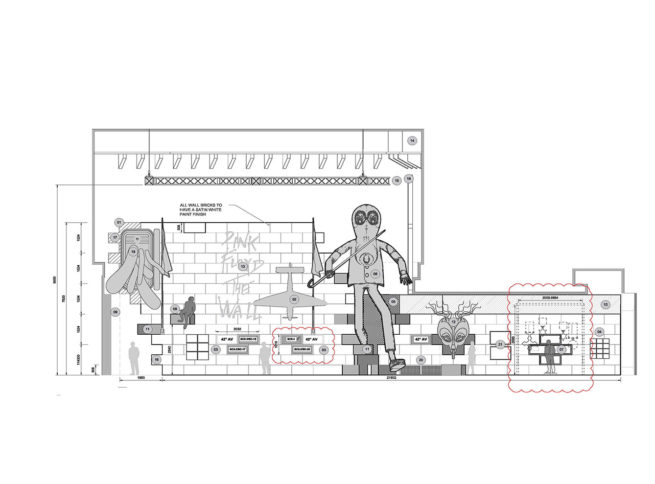 A key part of the design is in interpreting and transforming iconic Pink Floyd visuals like the Van, the Wall and Battersea into 3D scenery, playing with their scale, orientation and emotional impact. The exhibition juxtaposes these big scenic moments with small intimate encounters, through objects, pictures and videos. All the while, a rich soundscape entices the visitor to go deeper and deeper into the rabbit hole, experiencing the band from a fresh and unique perspective.
Credits
Show Director and Creative Director Po (Aubrey) Powel Producer S2BN V&A Curator: Victoria Broackes Production Manager Live Gallery / LarMac LIVE Nick Levitt/Jo MacKay / Ian Greenway Lighting Design WBD – Terry Cooke, John Coman / Rob Casey Sound Design Andy Jackson Video Design & Animation Lucky Frog & Hipgnosis Staging Supplier SET SQUARE LTD Technical Director LarMac LIVE Ltd – Jo MacKay / Ian Greenway, Video Programmer Richard Turner / Beki Gaskin / Lighting Director John Coman